California's Premier Mobile Marine Service
Fiberglass Specialties Marine
Mobile service

Fiberglass and gel coat repairs, refinishes, collision damage.
glamour finishes, everything from cosmetic to structural.
dry rot, custom graphics and
42 years as professional in marine and aviation industry.
All materials finest all made in the USA & imported via western Europe
California's Premier Mobile Marine Service
Read Testimonials
Serving Orange County, Ventura County, Los Angeles County,
& San Diego County & Inland Empire
Newport Beach, Irvine, Orange, Fullerton, Laguna Hills, Dana Point, Los angles, Thousand Oaks, Ventura,
Lake Ellsinore, Oceanside , Carlsbad, San Diego, Riverside, Corona, and surrounding areas .
---
Fiberglass Specialties internal Links
History Testimonials Services Photos Contact
---
Scroll down !!! and checkout the links above
---
---
Shipwright ,Marine Surveyor, Marine repair service.
---
Please Understand though I take great pride in my knowledge and Craftsmanship and only use highest grade /quality materials obtainable ( Marine / aviation).
I enjoy bringing delight to customers and occasionally do some additional work at no additional charge.
To make this 21.5 Eliminator show quality, instead of some gel coat repairs and glamour clear coat, that does eliminate gel coat fade, oxidation and provides a wet look that lasts over 40 years. Even in Arizona's highly destructive Ultraviolet highest on the United States solar index chart/ map. 10+ highest in our nation.
Ask about our superior glamour clear coating
(glamour finish that lasts) wet look) no discoloration, fading, oxidation, and gel coat protection that lasts over 40 plus years.)
I strive to please all customers all the time and be treated accordingly, However one can only please all some of the time ! Or some all of the time, but never can all be pleased all of the time ! Customers such as this have been extremely few and far between, maybe 3 in 40 years. .
I do my best to be fair and honest and delight in pleasing others with my knowledge and skills.
That's a win, win in my book.
Not overpriced ! Not under priced, unbeatable quality at a fair honest price, you do get what you pay for/
Absolute quality
Fiberglass Specialties Mobile Marine.
Since 1970
---
Exceptional, For those wanting nothing less than the finest .

Color perfect gel coat repairs - restorations - design changes - engineer - bow conversions - concepts...

Certified shipwright ! Everything from rot, modifications, visit website for further details.


This Eliminator had Eminence damage and horrible fading - finish was shot - graphics (horrible)

Before and after pics ... 28 year Eliminator 21.5 restoration.
I refinished in painted graphics, repaired fades, chips, keel paired, stress cracks, re-bended faded colors and blends colors...and much more.

Refinished with highest clear that will never oxidize, fade, with Ultraviolet blockers, flax agents. highest end materials no Chinese only Made in USA western European !

with gel coat problems will be anointing / ongoing problems with age!

The Glamour finish that lasts !!
Sanding & buffing results with problems returning /eventually removing and further damage to the gel coat.

Note: sanding and buffing only removes oxidation and removes gel coal and problems return within a year or less.
Gel is a 50 year old cheep technology only used do to compatibility requirements when built by manufacturing , Never refinish gel coat over gel coat !
feel free to ask why. Completed subject & issues.
---



Mobile services from Ventura to San Diego
1000oaks, Burbank, Semi Valley, orange county, So cal .
Mobile !!!
---
Online Estimates

A.
For online estimates, Email or text...calling use voice mail for same day return call .


B.
Fiberglass Specialties for estimates include photos, explain work required & your location.
.

By appointment Mobile services to you.
Visit website and review customer testimonials, photos , online estimate & services.


---

Marine Services since 1970


All work guaranteed !- Over 41 years exp .Appointments are required.

See and explore website for full information, well worth the effort !

When only the best will do !\
Note: Photos and other ( such as name) are copy write (TM). and expressed property, not to be used
without written permission.

Total expert mobile service, when calling please use voicemail, phone not always answered due to driving, currently working or other. Will reply same day.

Insurance welcome / all work With a 100% guarantee.
Guaranteed for as long as you own your boat , yacht, watercraft, abuse excluded.

For online estimates, Email or text...calling use voice mail for same return call !
Fiberglass Specialties for estimates include photos, explain work required & your location.

By appointment Mobile services to you.
Visit website and review customer testimonials, photos , online estimates
Fiberglass Gel Coat, custom finishes and more *mobile* Specialists*
---
Fiberglass - Gel coat - Custom painting - Graphics Design - Welding - Upholstery - Carpeting - Electrical - Dry rot repair - Collision repair - Restorations - Designers & Modifications - Tooling and more - Insurance & Manufactures warranty work. With over 40 years in the marine and aviation industry.
---
Open bow conversions - Consultant - Pre- purchase inspections and more . No engine or out drive work !
---
For free online Estimates please send by email photos and descriptions of work requested, include your location.
Appointments are required !
Email smith.douglas50@yahoo.com
888-661-5576
For after hours emergency
530 -355-5367 (use voice mail for return call)
---
---
Click to view or use link at top of page.
Click to view or use link at top of page.
I just began asking customers for feedback May of 2013
---
Some Before, during and after photos below
---
Delimitation of Sea Doo The slightest damage can rip the lamination
at 70 mph it can act a SPEED BRAKE !
Dangerous and costly.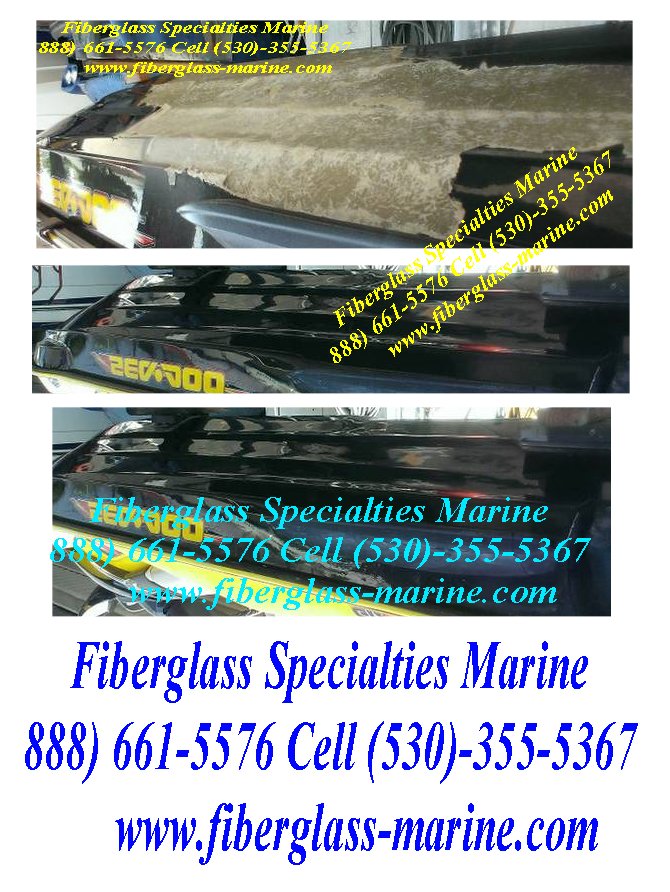 ---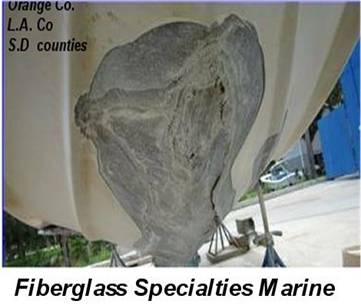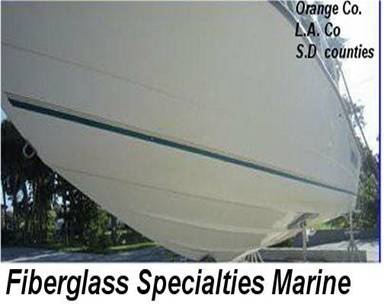 ---
Below is a 28 year old Eliminator restoration with high end aviation clear !
The Glamour finish that lasts ! proven over 40 years and still
looks as good as the day it was refinished ( wet look that lasts)
Before and after pictures / out of order.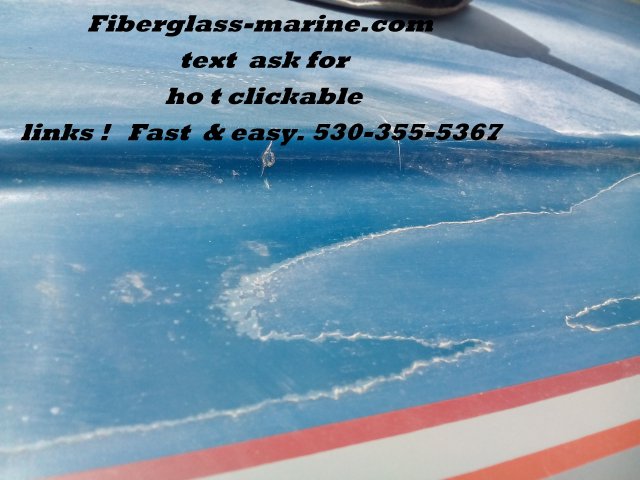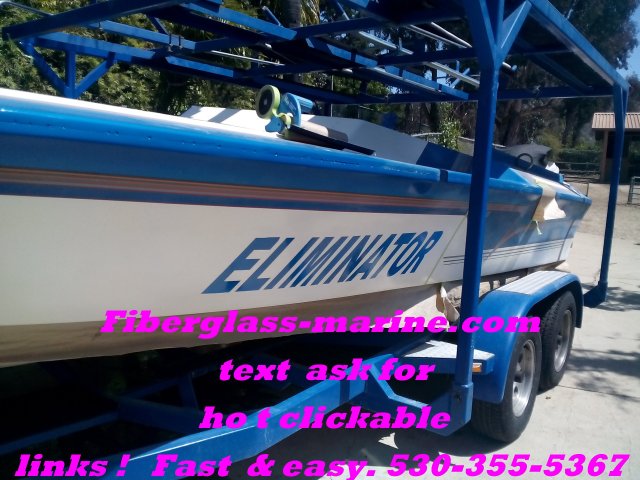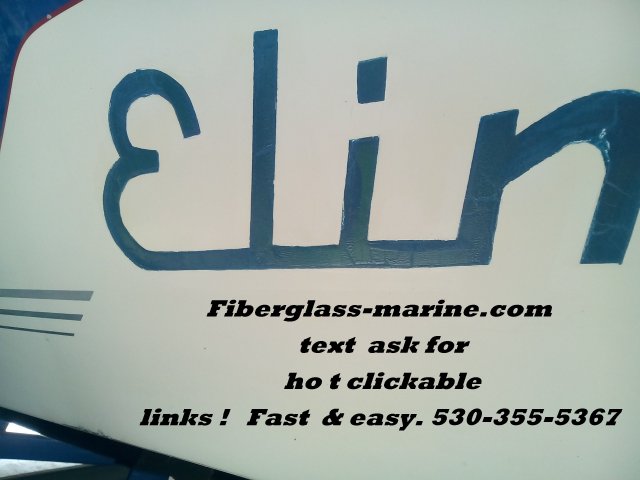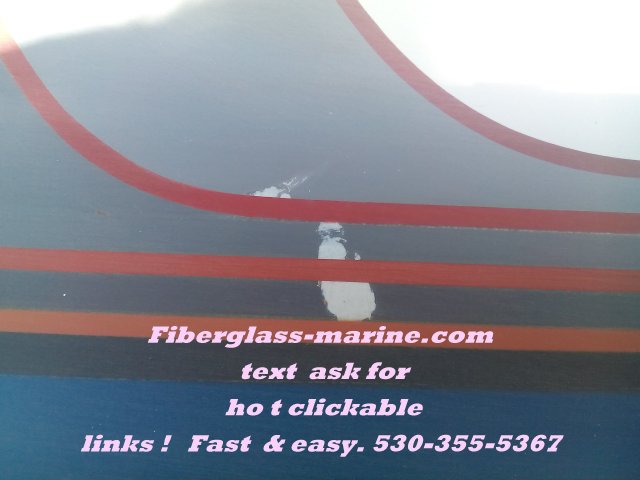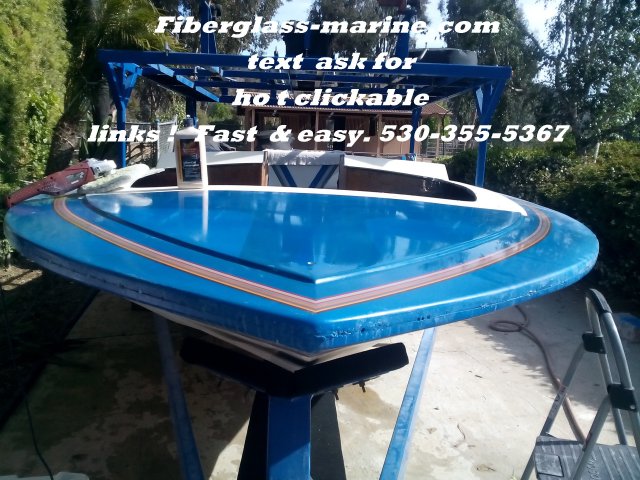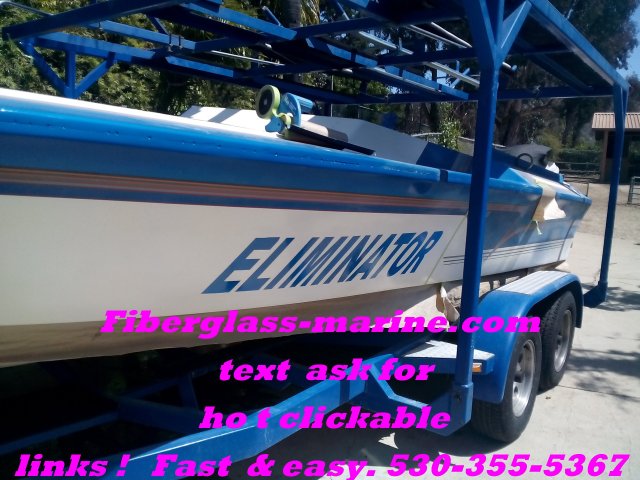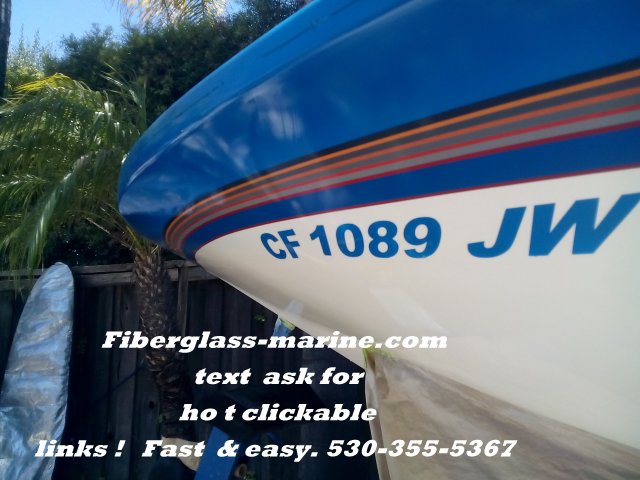 ---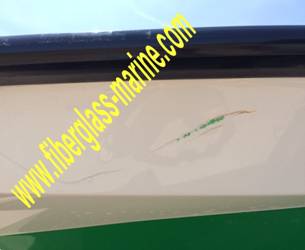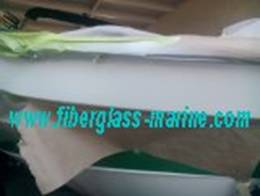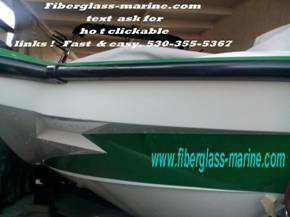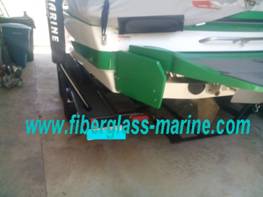 ---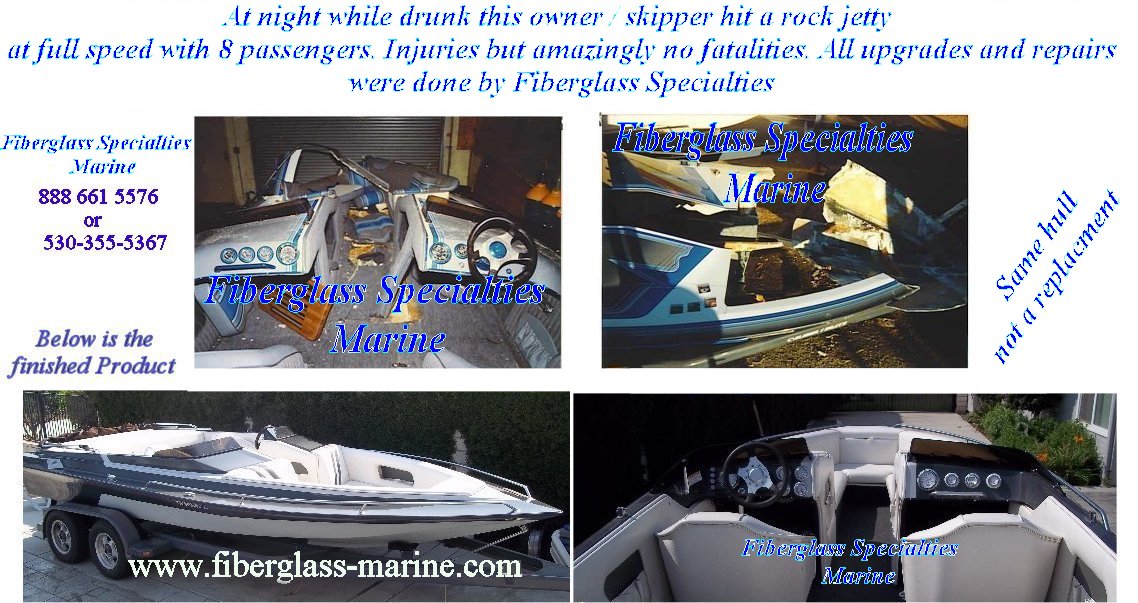 ---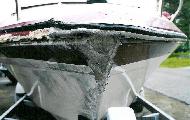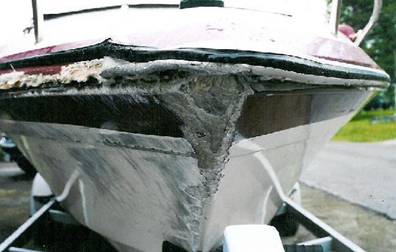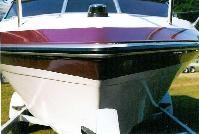 ---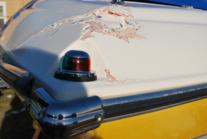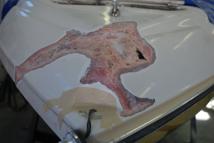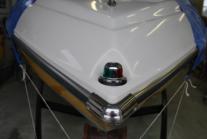 ---
Conversions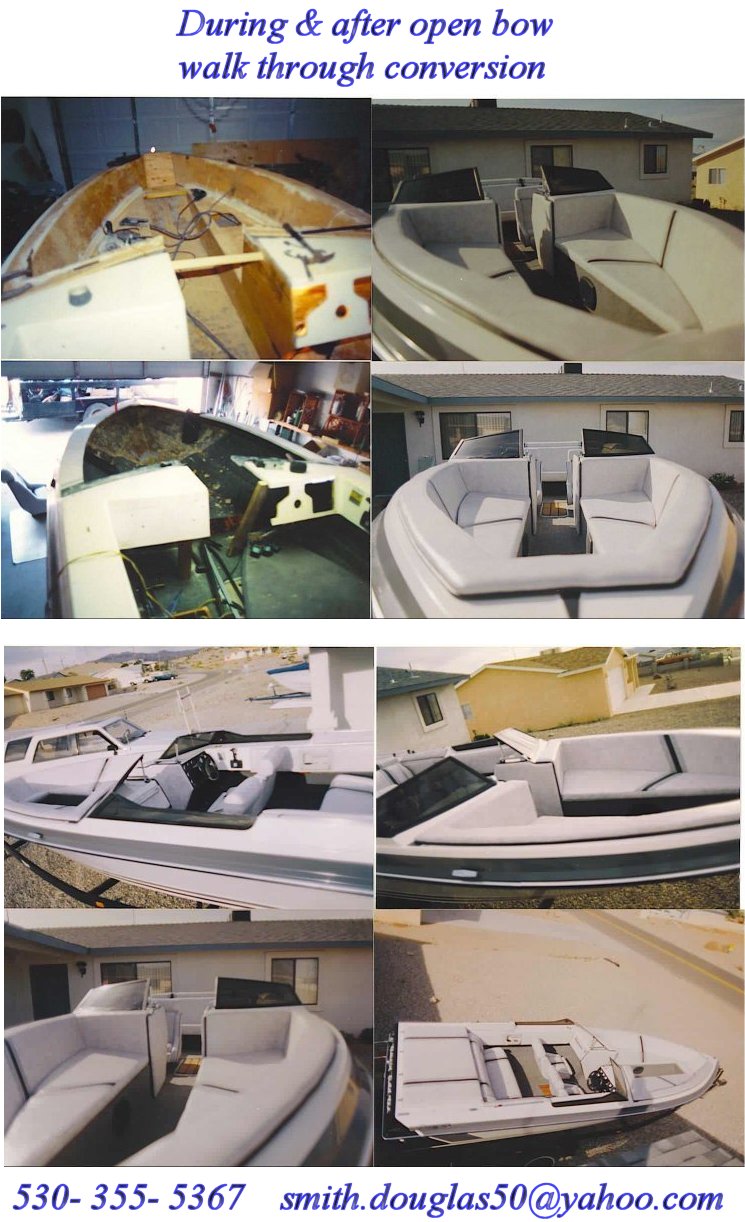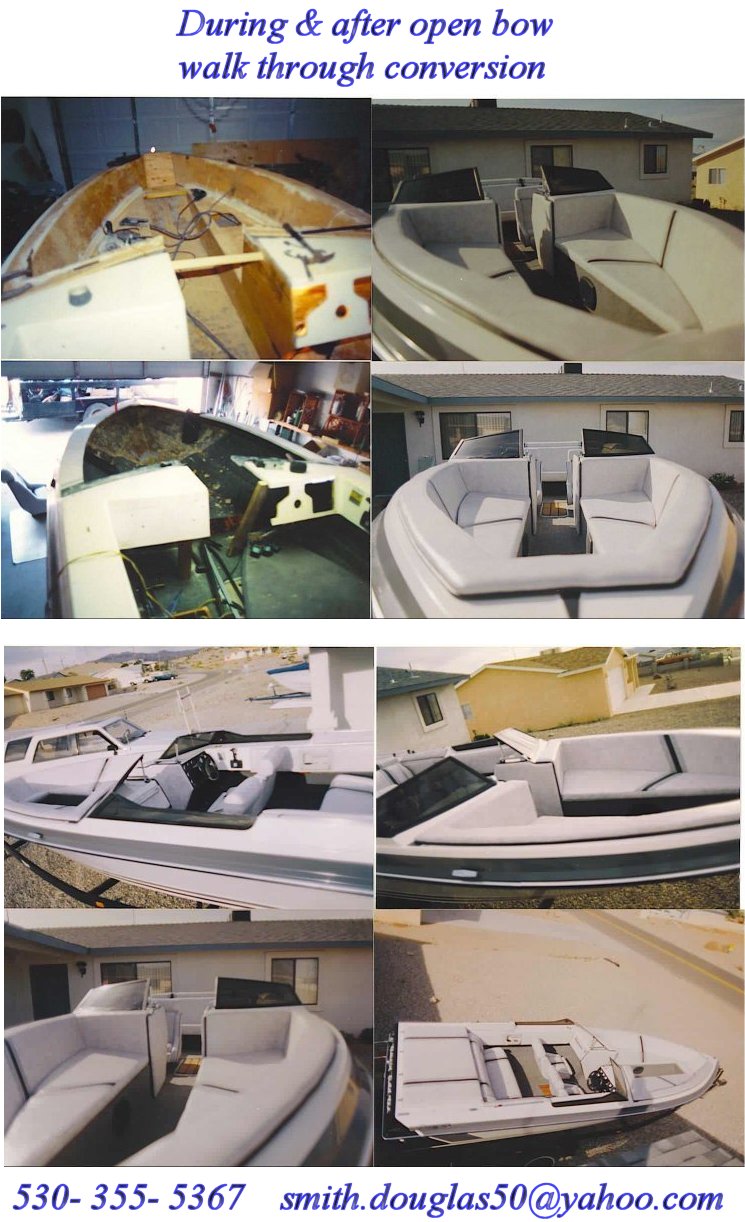 ---
Restorations
Sea Ray below purchased for $400. sold for $7400.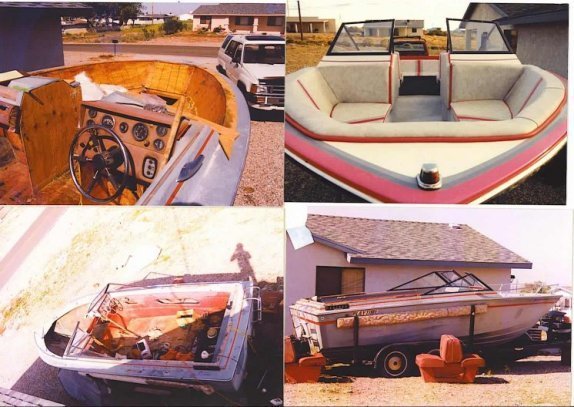 Note the bass Boat restoration below next to the finished Sea Ray before and after, yes same boat !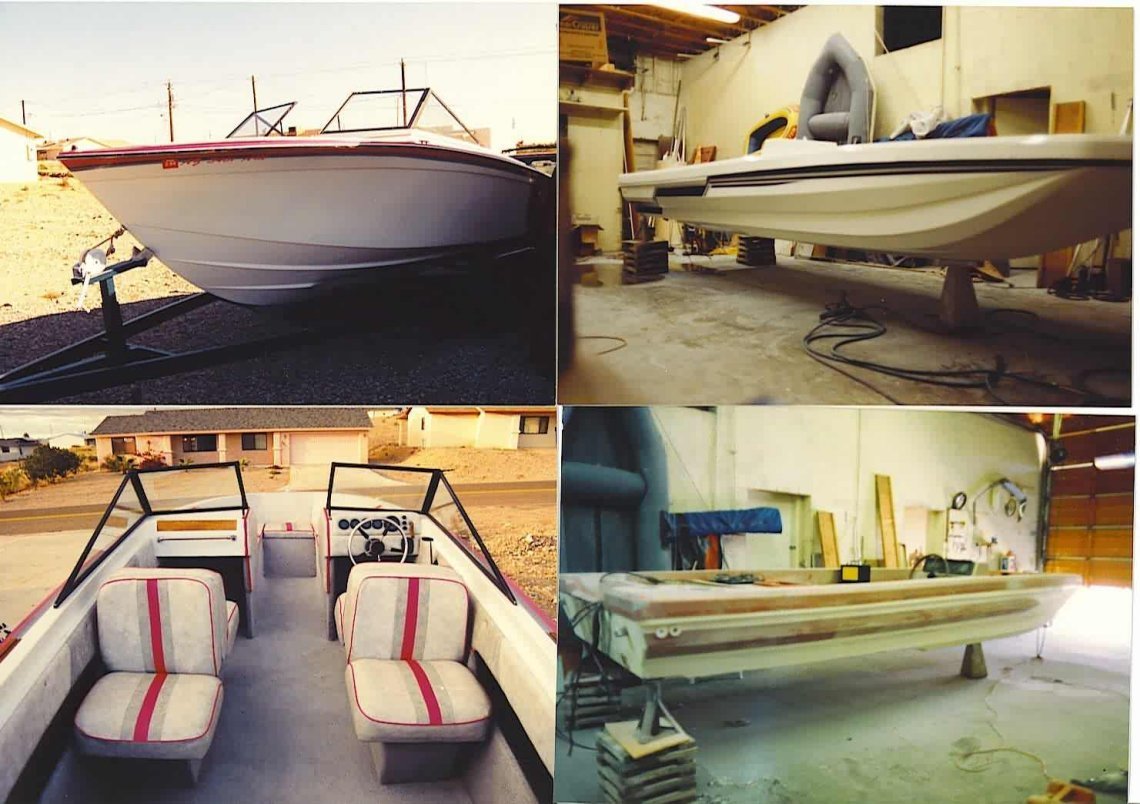 ---
20 ft Tahiti Before, during and after Du pont Imron Finish buried in clear & with Marine Grade interior. 1982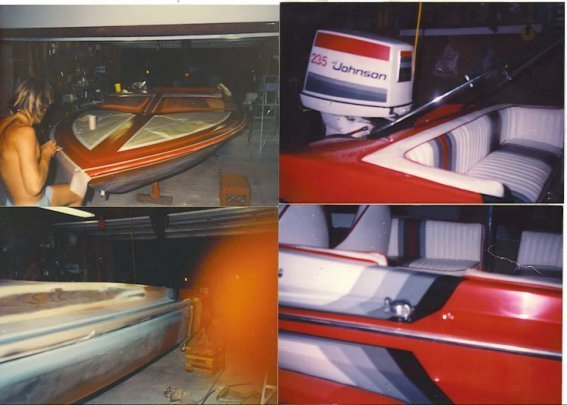 only the finist marine & avaition finshes.
---
Refinishing
24' Campbell refinish, boat hull, deck and trailer.
before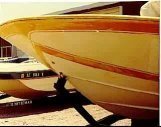 after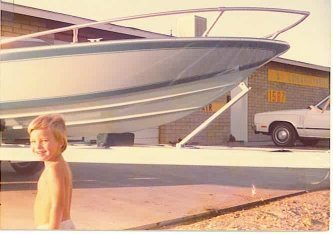 ---
Designs / Inventions / Concepts / Solutions.
My design below was Featured on the Discovery Channel.
custom restoration from a crushed / destroyed Tahiti into a one of a kind commercial Hang gliding concept boat.
Boat - water towing tandem hang glider with pilot and passenger to 3500' A.W.L. (above water level). Then pilot harnessed below released the Spectra tow line tthat had an automatic deployment (small ram air parachute) for a safe 60 mph rewind. While the glider would fly for an average of 20 minutes covering a minimum distance of 3 miles in full glide. Landing on the water and recovered with the use of the hydraulic platform. ( pic of me in far lower left with
Lake Havasu City in background). This old Tahiti 24ft crushed by avalanche I purchased as a crushed hull for $250. Then replaced all structural wood, stringers, transom, bulkheads, floor.... Redesigned and made a hydraulic powered platform -Winch - mast - Commercial Hang gliding boat for tandem rides and lessons. Seen on Discovery channel ! After several years of use in three countries I sold it for over $30.000 U.S.D.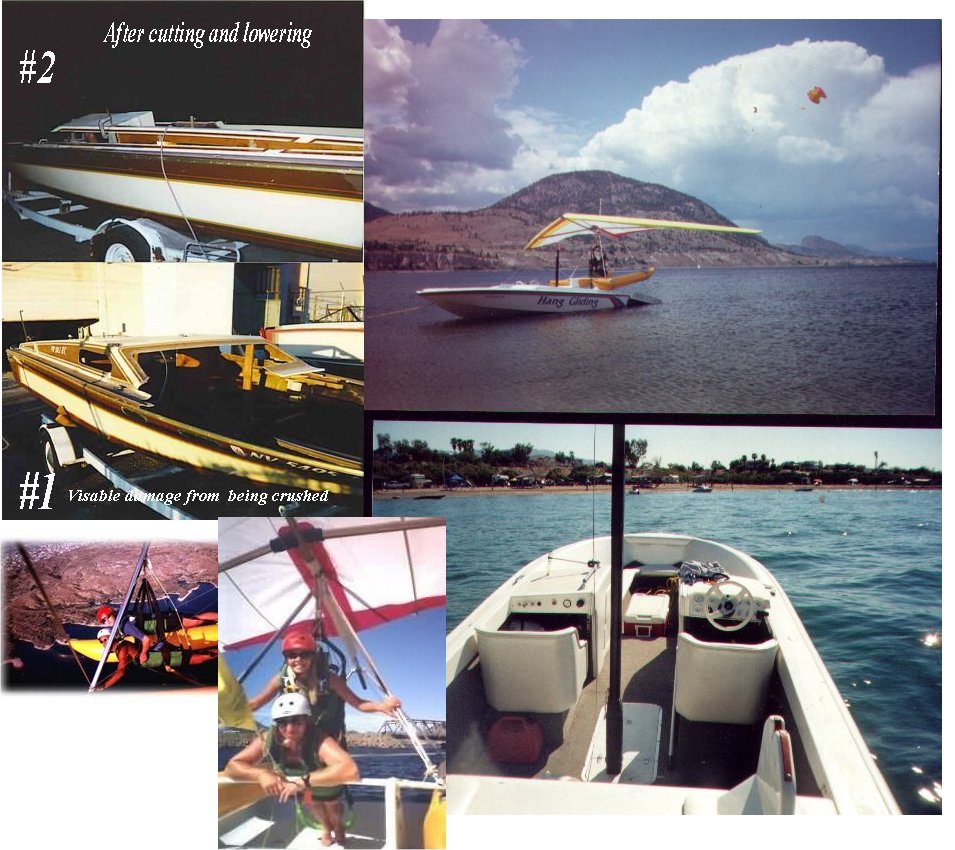 ---
Mobile Marine designer, builder, repairman & Consultant / advisor.
Boat repairman mobile, fiberglass gel coat custom refinishing, with all advanced finishes.
We do quality work on quality boats, we do not short cut or do anything that is not the highest standard in marine quality and safety.
Please call another for marine services for watercraft of low standard or wanting short cuts -- work that is not total quality. We simply will not service watercraft of questionable integrity compromising boating safety or environmental hazards. We will not resort to risking any potential hazards, harm or loss of life, or damage to integrity or reputation. WE take pride in our work and the valuable service we provide the marine industry.
Many boats should be destroyed, recycled or made into planters. Not to be rigged with any cheep fix when the outcome could result in death, rescue and pollution.
---
Services for dealers, repair yards, also some private owners, .
Fiberglass & Gel coat repairman, mobile services, 35+ years exp. Knowledge as Owner, manager, advisor, and consultant in the marine industry both manufacturing and repair. Consultant for the west coast United States Coast Guard and instructor & teacher for marine and boating safety courses.
I highly advise: pre sale / purchase inspections & Marine Surveys, Do not buy a watercraft without having it inspected!!!
Custom paint and graphics Gel coat repair color perfect matching.
Trailer repair (welding) (modifications) adjustments and finishes. A trailer must be fitted to the hull correctly or the result can be permanent damage to the boat hull causing warping, hooks in the bottom and even breaks in the fiberglass.
Fiberglass & Gel Coat repair structural and the finest Lasting Glamour finishes & non-skid deck surface applications.
Experts in polyesters and epoxy's structural repairs including marine & Aircraft composites & The finest finishes available.
---
Color perfect color Matches. Crystal Clear coats in high end finishes, the wet look that lasts, flex agents, U.V. inhibitors (blockers) fade resistant, no oxidation no fading no kidding !
Detailing - custom refinishing - custom graphics - Vinyl graphics & lettering.
Dry rot repair, interior carpeting and hard finishes - upholstery - electrical - Restorations and conversions.
Open bow ( walk through or key hole conversions). refinish specialist - certified shipwright with over 40 years exp. Since 1970
Honest, fair, quality high-end, top shelf craftsmanship second to none !!! with reasonable prices, as in everything you get what you pay for (excluding love and what money will not buy).
References include United States Coast Guard, and major U.S. Manufactures.
Warranty work for dealers and manufactures world wide.
Insurance welcome / all work guaranteed for as long as you own your boat , yacht, watercraft, abuse excluded.
All work fully guaranteed - over 40 years experience. I don't feel that old.
E mail Smitty at Fiberglass Specialties for Total expert / professional mobile service.
please email or call for scheduling.
888-661-5576
For after hours emergency
530 -355-5367
Some of my work history
Knight and Craver Marine (San Diego Ca.)
Kettenburg Marine (San Diego Ca.)
West Sail Yachts, (Costa Mesa Ca.)
Islander yachts (Costa Mesa Ca.)
Harvey boats Mgr.
Hallett Boats builder
Nordic boats builder – gel cot - rigging
Advantage boats quality control
Magic boats production Mgr.
Eliminator boats production
Campbell boats Building - tooling- mold making – factory repair,
Biggs Power Marine (San Jose ca.) Mgr.
Aircraft flight instructor and design
http://en.wikipedia.org/wiki/Southern_California
www.boataccess.com/boat_access_ california_boating_links.htm
www.dbw.ca.gov/BoaterInfo/ BoatSafeCourse.aspx
http://coastguardnews.com/coast-guard-urges-boating-safety-as-southern-california-prepares-for-gale-conditions/2009/10/13/
---

Minnesota Boat Dealer
Boat Dealer Oklahoma
Star Craft Boat Dealer
Ranger Boat Dealer
Aluminum Boat Dealer
Bass Boat Dealer
Used Boat Dealer In New York
Star Craft Boat Dealer
Boat Dealer Lake Of The Ozarks
Aluminum Boat Dealer
Yamaha Boat Dealer
Alabama Boat Dealer
Richland Chambers Boat Dealer
Inflatable Boat Dealer

List of boat-dealer Articles
List of boat-dealer Links
| | | | | | |
| --- | --- | --- | --- | --- | --- |
| | City | | 31,765 | 56.01 sq mi (145.1 km2) | December 22, 1970 |
| | City | | 20,330 | 7.79 sq mi (20.2 km2) | December 8, 1982 |
| | City | | 73,812 | 10.61 sq mi (27.5 km2) | April 19, 1854 |
| | City | | 18,539 | 1.79 sq mi (4.6 km2) | September 22, 1908 |
| | City | | 83,089 | 7.63 sq mi (19.8 km2) | July 11, 1903 |
| | City | | 47,823 | 7.47 sq mi (19.3 km2) | July 1, 2001 |
| | City | | 2,827 | 2.43 sq mi (6.3 km2) | September 16, 1901 |
| | City | | 185 | 0.31 sq mi (0.80 km2) | June 2, 1915 |
| | City | | 19,454 | 4.84 sq mi (12.5 km2) | January 1, 1992 |
| | City | | 336,265 | 49.84 sq mi (129.1 km2) | March 18, 1876 |
| | City | | 9,932 | 6.37 sq mi (16.5 km2) | January 16, 1956 |
| | City | | 3,836 | 3.63 sq mi (9.4 km2) | January 16, 1912 |
| | City | | 102,372 | 28.35 sq mi (73.4 km2) | February 6, 1872 |
| | Town | | 69,135 | 73.19 sq mi (189.6 km2) | November 28, 1988 |
| | City | | 56,364 | 10.93 sq mi (28.3 km2) | August 5, 1903 |
| | City | | 17,231 | 9.10 sq mi (23.6 km2) | February 2, 1858 |
| | City | | 17,252 | 5.84 sq mi (15.1 km2) | July 10, 1911 |
| | City | | 16,522 | 1.62 sq mi (4.2 km2) | May 29, 1959 |
| | City | | 19,304 | 4.82 sq mi (12.5 km2) | December 21, 1960 |
| | City | | 28,310 | 25.64 sq mi (66.4 km2) | July 2, 1979 |
| | Town | | 6,914 | 5.02 sq mi (13.0 km2) | September 12, 1923 |
| | City | | 28,168 | 6.09 sq mi (15.8 km2) | August 16, 1922 |
| | City | | 13,330 | 7.14 sq mi (18.5 km2) | May 2, 1888 |
| | City | | 3,728 | 2.94 sq mi (7.6 km2) | June 26, 1913 |
| | City | | 15,505 | 19.42 sq mi (50.3 km2) | September 11, 1979 |
| | City | | 46,361 | 9.66 sq mi (25.0 km2) | December 29, 1898 |
| | City | | 347,483 | 142.16 sq mi (368.2 km2) | January 11, 1898 |
| | City | | 75,390 | 6.63 sq mi (17.2 km2) | January 25, 1956 |
| | City | | 29,603 | 23.10 sq mi (59.8 km2) | February 6, 1913 |
| | City | | 29,603 | 41.38 sq mi (107.2 km2) | September 30, 1947 |
| | City | | 36,877 | 30.91 sq mi (80.1 km2) | November 18, 1912 |
| | City | | 35,477 | 2.50 sq mi (6.5 km2) | November 7, 1927 |
| | City | | 42,072 | 2.46 sq mi (6.4 km2) | August 1, 1961 |
| | City | | 76,616 | 6.12 sq mi (15.9 km2) | September 3, 1957 |
| | City | | 25,835 | 4.62 sq mi (12.0 km2) | October 29, 1926 |
| | City | | 2,068 | 0.52 sq mi (1.3 km2) | December 24, 1896 |
| | City | | 26,997 | 12.93 sq mi (33.5 km2) | March 27, 1850 |
| | City | | 112,580 | 10.47 sq mi (27.1 km2) | April 4, 1878 |
| | City | | 34,109 | 5.71 sq mi (14.8 km2) | January 28, 1914 |
| | City | | 5,019 | 6.35 sq mi (16.4 km2) | November 28, 1980 |
| | City | | 1,707 | 0.64 sq mi (1.7 km2) | June 26, 1903 |
| | City | | 3,879 | 1.86 sq mi (4.8 km2) | May 6, 1903 |
| | City | | 1,253 | 0.59 sq mi (1.5 km2) | April 23, 1910 |
| | City | | 20,817 | 26.19 sq mi (67.8 km2) | July 21, 1916 |
| | City | | 1,048 | 1.96 sq mi (5.1 km2) | July 26, 1957 |
| | City | | 24,953 | 7.68 sq mi (19.9 km2) | April 6, 1908 |
| | City | | 39,282 | 12.08 sq mi (31.3 km2) | February 23, 1917 |
| | City | | 51,481 | 14.79 sq mi (38.3 km2) | January 21, 1948 |
| | City | | 4,282 | 3.10 sq mi (8.0 km2) | November 27, 1961 |
| | City | | 4,828 | 1.58 sq mi (4.1 km2) | February 1, 1992 |
| | City | | 80,530 | 10.52 sq mi (27.2 km2) | January 27, 1953 |
| | City | | 103,340 | 17.34 sq mi (44.9 km2) | July 8, 1911 |
| | City | | 28,806 | 4.41 sq mi (11.4 km2) | June 6, 1908 |
| | City | | 23,058 | 12.90 sq mi (33.4 km2) | April 5, 1991 |
| | City | | 38,572 | 8.39 sq mi (21.7 km2) | April 16, 1908 |
| | City | | 14,120 | 203.52 sq mi (527.1 km2) | December 10, 1965 |
| | City | | 7,879 | 14.85 sq mi (38.5 km2) | December 1, 1990 |
| | City | | 7,705 | 3.72 sq mi (9.6 km2) | February 28, 1919 |
| | City | | 5,155 | 2.60 sq mi (6.7 km2) | January 6, 1886 |
| | City | | 65,201 | 19.53 sq mi (50.6 km2) | March 28, 1964 |
| | City | | 39,349 | 5.80 sq mi (15.0 km2) | March 28, 1952 |
| | City | | 10,561 | 3.93 sq mi (10.2 km2) | December 1, 1990 |
| | City | | 9,918 | 1.59 sq mi (4.1 km2) | January 11, 1949 |
| | City | | 105,328 | 37.72 sq mi (97.7 km2) | July 16, 1952 |
| | City | | 3,722 | 1.08 sq mi (2.8 km2) | October 31, 1916 |
| | City | | 13,040 | 2.59 sq mi (6.7 km2) | September 28, 1965 |
| | City | | 91,714 | 18.72 sq mi (48.5 km2) | February 20, 1968 |
| | City | | 51,200 | 21.50 sq mi (55.7 km2) | November 16, 1981 |
| | City | | 45,417 | 8.01 sq mi (20.7 km2) | February 25, 1918 |
| | City | | 49,041 | 8.73 sq mi (22.6 km2) | April 24, 1956 |
| | City | | 86,187 | 32.92 sq mi (85.3 km2) | January 8, 1872 |
| | City | | 77,983 | 29.64 sq mi (76.8 km2) | February 28, 1910 |
| | City | | 74,799 | 44.68 sq mi (115.7 km2) | December 1, 1991 |
| | City | | 18,720 | 7.66 sq mi (19.8 km2) | February 7, 1923 |
| | City | | 243,916 | 49.63 sq mi (128.5 km2) | November 28, 1911 |
| | City | | 83,301 | 14.23 sq mi (36.9 km2) | January 1, 1997 |
| | City | | 34,926 | 13.35 sq mi (34.6 km2) | October 3, 1907 |
| | City | | 10,897 | 3.84 sq mi (9.9 km2) | March 18, 1964 |
| | City | | 15,250 | 10.13 sq mi (26.2 km2) | November 14, 1980 |
| | City | | 8,618 | 2.65 sq mi (6.9 km2) | February 28, 1872 |
| | City | | 95,631 | 23.28 sq mi (60.3 km2) | February 27, 1912 |
| | City | | 40,704 | 28.95 sq mi (75.0 km2) | December 13, 1946 |
| | City | | 13,380 | 6.12 sq mi (15.9 km2) | April 3, 1906 |
| | City | | 1,963 | 1.41 sq mi (3.7 km2) | February 23, 1910 |
| | Town | | 1,792 | 1.91 sq mi (4.9 km2) | August 5, 1924 |
| | City | | 52,154 | 15.32 sq mi (39.7 km2) | July 11, 1887 |
| | City | | 5,971 | 1.83 sq mi (4.7 km2) | June 16, 1868 |
| | City | | 12,823 | 6.54 sq mi (16.9 km2) | January 28, 1960 |
| | City | | 96,455 | 10.01 sq mi (25.9 km2) | May 11, 1888 |
| | City | | 122,067 | 30.55 sq mi (79.1 km2) | February 9, 1905 |
| | City | | 24,813 | 7.47 sq mi (19.3 km2) | August 11, 1914 |
| | City | | 7,663 | 3.55 sq mi (9.2 km2) | August 6, 1907 |
| | City | | 152,374 | 38.83 sq mi (100.6 km2) | July 13, 1896 |
| | City | | 24,697 | 7.93 sq mi (20.5 km2) | December 11, 1890 |
| | Town | | 9,253 | 3.16 sq mi (8.2 km2) | June 10, 1916 |
| | City | | 109,960 | 15.65 sq mi (40.5 km2) | June 29, 1953 |
| | City | | 7,265 | 1.88 sq mi (4.9 km2) | July 16, 1963 |
| | City | | 47,796 | 7.03 sq mi (18.2 km2) | August 14, 1901 |
| | City | | 7,643 | 1.96 sq mi (5.1 km2) | April 13, 1854 |
| | City | | 23,805 | 1.18 sq mi (3.1 km2) | November 10, 1960 |
| | City | | 38,883 | 5.11 sq mi (13.2 km2) | September 7, 1917 |
| | City | | 58,302 | 11.26 sq mi (29.2 km2) | October 10, 1955 |
| | City | | 47,802 | 6.58 sq mi (17.0 km2) | July 24, 1956 |
| | City | | 101,123 | 7.66 sq mi (19.8 km2) | March 22, 1911 |
| | City | | 33,351 | 6.50 sq mi (16.8 km2) | March 22, 1911 |
| | Town | | 42,039 | 18.03 sq mi (46.7 km2) | July 1, 1982 |
| | City | | 65,622 | 9.89 sq mi (25.6 km2) | March 28, 1917 |
| | City | | 4,161 | 1.71 sq mi (4.4 km2) | July 15, 1959 |
| | City | | 1,624 | 0.48 sq mi (1.2 km2) | September 3, 1953 |
| | City | | 53,041 | 14.30 sq mi (37.0 km2) | April 13, 1915 |
| | City | | 25,938 | 23.62 sq mi (61.2 km2) | September 25, 1963 |
| | City | | 55,544 | 14.88 sq mi (38.5 km2) | April 18, 1989 |
| | City | | 21,453 | 6.47 sq mi (16.8 km2) | January 6, 1906 |
| | City | | 18,351 | 7.00 sq mi (18.1 km2) | March 30, 1878 |
| | City | | 939 | 0.70 sq mi (1.8 km2) | December 23, 1908 |
| | City | | 4,950 | 1.35 sq mi (3.5 km2) | May 24, 1935 |
| | City | | 111,772 | 12.41 sq mi (32.1 km2) | December 17, 1956 |
| | City | | 21,321 | 6.69 sq mi (17.3 km2) | August 22, 1957 |
| | City | | 46,036 | 14.91 sq mi (38.6 km2) | February 1, 1982 |
| | City | | 1,650 | 1.70 sq mi (4.4 km2) | August 7, 1909 |
| | City | | 28,155 | 2.51 sq mi (6.5 km2) | July 1, 1983 |
| | City | | 53,670[9] | 13.1 sq mi (34 km2)[9] | October 1, 2010 |
| | City | | 99,478 | 14.43 sq mi (37.4 km2) | November 12, 1912 |
| | City | | 42,598 | 11.08 sq mi (28.7 km2) | April 16, 1908 |
| | City | | 23,549 | 3.69 sq mi (9.6 km2) | August 23, 1917 |
| | City | | 113,475 | 9.56 sq mi (24.8 km2) | November 18, 1912 |
| | City | | 16,654 | 5.46 sq mi (14.1 km2) | January 18, 1917 |
| | City | | 153,015 | 42.19 sq mi (109.3 km2) | July 1, 2000 |
| | City | | 10,080 | 1.25 sq mi (3.2 km2) | December 8, 1896 |
| | City | | 59,518 | 18.81 sq mi (48.7 km2) | October 1, 1986 |
| | City | | 7,132 | 2.30 sq mi (6.0 km2) | March 12, 1957 |
| | City | | 143,911 | 36.81 sq mi (95.3 km2) | October 8, 1888 |
| | City | | 737 | 0.76 sq mi (2.0 km2) | March 13, 1878 |
| | City | | 27,191 | 9.38 sq mi (24.3 km2) | April 18, 1856 |
| | City | | 10,334 | 2.46 sq mi (6.4 km2) | March 2, 1911 |
| | Town | | 7,441 | 2.20 sq mi (5.7 km2) | March 2, 1931 |
| | City | | 105,321 | 37.39 sq mi (96.8 km2) | December 12, 1903 |
| | City | | 10,588 | 2.26 sq mi (5.9 km2) | October 5, 1960 |