History Testimonials Services Photos Contact Main
---
Fiberglass Specialties Marine
(Mobile Service) Southern California

Fiberglass and gel coat repair, total refinishing Fiberglass Reformations Lake Havasu City Arizona Serving all of California
California's Premier Mobile Marine Repair Service.
My work and trade history
Began surfing at age 9 on the ridged Oregon coast building and repairing surfboards at age 10
Began yacht building in the early 1970's living in Newport Beach while working to put my self through school at U.C. Irvine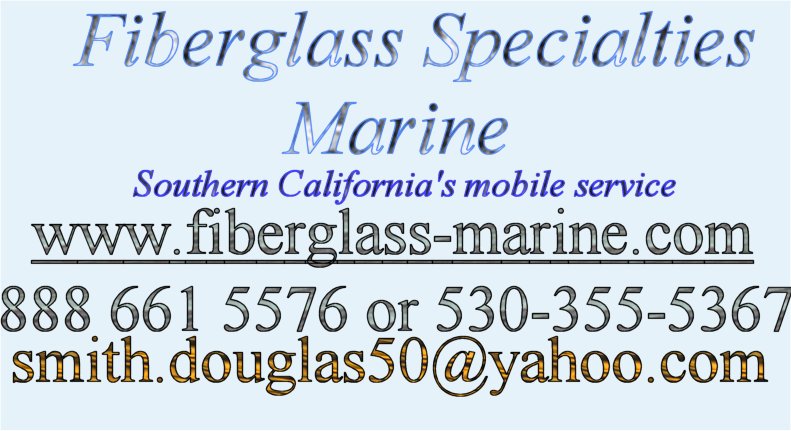 ---
Shipwright
The definition of a shipwright is someone who builds & repairs boats, yachts and ships.
Brief summery of my work history
-
Some of my work history, Not all.
---
Marina Del Ray Boat named (Madman on the water) owner / gift from
his manager to Elton John.
---
Another boat you may know the owner ( Easy Money) owner Billy Joel.
Manager then Artie Ripp
.
---
Knight and Craver Marine (San Diego Ca.)
Kettenburg Marine (San Diego Ca.)
Columbia yachts
Matco tooling (ventura Ca.
Sundance Boats ( Portland Ore.
West Sail Yachts, (Costa Mesa Ca.)
Islander yachts (Costa Mesa Ca.)
MacGregor yachts (Costa Mesa Ca.)
Harvey boats Mgr. (Aloha Oregon)
Four Winns boats - warranty work.
Hallett Boats builder
Nordic boats . construction /builder – gel cot & rigging.
Advantage boats quality control
Magic boats production Mgr.
Eliminator boats production
Campbell boats Building - tooling- mold making – factory repair, Warranty work. Worked side by side with Bob Campbell building the plug and mold for the 22ft. Bob is deceased, he died in Tucson Az. His wife Stormy still lives there.
Biggs Power Marine (San Jose ca.) Mgr.
United States Coast Guard ( Parker Strip / Training station California side. Inspected / Used me exclusively - Ongoing repairs both structural and cosmetic. Under ( Chief Steven Talbert / U.S.C.G. Chief west coast - 1971 to closing of that station. Fiberglass Specialties shop then located in Lake Havasu city Az.